Latest BitTorrent developments
Bram Cohen is releasing a trackerless capable bittorrent client.
The Azureus BitTorrent client has support for distributed trackers. Read more here.
About trackers and trackerbt
One crucial component of the BitTorrent structure is the tracker. This is a small program which is hosted by someone who wants to share a file using BitTorrent. Anyone that wants to download that file needs to connect to the tracker to receive a list of other peers already participating in the download of the file. The tracker is a standalone program. If the tracker goes offline, new peers will not be able to join the download. This makes the tracker the weak link of the BitTorrent solution.
What if the tracker were able to share its peer list with other trackers? This would create a redundant network of trackers, all aware of all peers participating in the download. Peak load would be reduced, and if one tracker goes offline new peers would still be able to contact one of the other trackers and join the download.
Imagine
The Distributed BitTorrent Tracker solution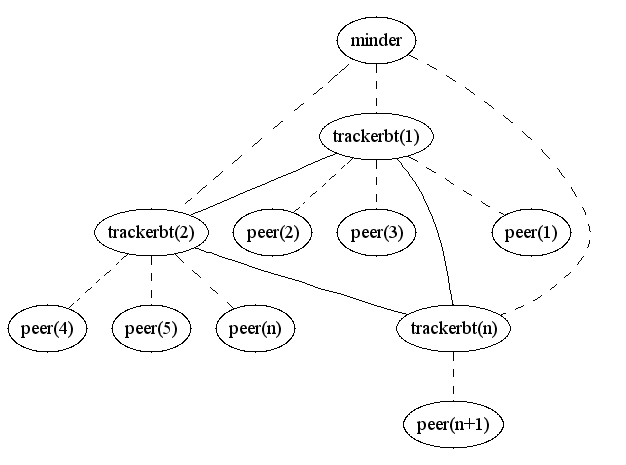 Each download is aware of one tracker URL. Using DNS, the tracker hostname can be given multiple IP addresses (many A records). When a peer tries to contact the tracker, it will randomly use one of these IP addresses.
The minder acts as a tracker for the trackers. Using SSL, tracker peer lists are distributed to each tracker, who can then contact other trackers to keep "the peer list" up-to-date.